---
---
John Oakes is traveling for two weeks, first to Dallas, then to Korea and the Philippines.
I am now in Cebu, Philippines, the second city of this beautiful country.
Jan 7-9 Dallas Texas
This is my first time being part of what is known as the Texas Roundup.  This is an annual gathering of Christian leaders from Texas, Oklahoma, Louisiana, and this year, Kansas. More than 140 leaders gather for fellowship, teaching and inspiration to lead God's church in the coming year. This meeting has been going on from at least twelve years.
First we hear good news from around the region. There were one hundred and forty baptism in the Dallas church, including 45 campus students. The church in College Station has grown from thirty-five to eighty-five members and sent out fifty-five to other churches, including interns and full time ministers. The Lawrence Church as grown from 55 to one hundred fifty. Many other blessings of a non-numerical nature were also mentioned. The first talk is by Tom and Kelly Brown. This is great joy for me personally, as Tom studied the Bible with me thirty-nine years ago when I became a Christian. The church he and Kelly help to lead saw seventy-five campus baptism and two hundred fourty overall last year. Their talk was on "Growing Your Church." Their main point was praying for all the members of the church and committing to personal relationships which can raise up disciples of Jesus do their full potential.
I have been invited to give a series of talks about Christian Evidence. My first talk is on the Christian Worldview and why it is so obviously superior to other world views, such as atheism, postmodernism, Hinduism, Buddhism or Islam.  Tuesday I teach classes on "Answering the Hard Questions" and "Evidence for Jesus." The leaders here appreciate that even in Texas and Oklahoma, we are entering the post-Christian age and the kinds of evidence we need to use to help people come to faith in Jesus is changing. We also hear from Robert Carrillo, encouraging us to engage with HOPE Worldwide. It is a great joy to renew dozens of relationships with friends in Texas.
Seoul, Korea January 11-14
Wednesday is a travel day. In the middle of a fourteen hour flight to Incheon, Korea, we end up with an emergency landing in Anchorage.  I land two hours late in Korea.  We rush off to a midweek meeting in the satellite city of Ilsan for a lesson on God and science.  This is a smaller city of about one hundred thousand. There are about one hundred at the service.  I feel very warmly received, which is a good thing because it is very cold here.  Seventeen degrees when I land and I hear it will get down to about two degrees Fahrenheit in the morning. As we return to the hotel, I am told that the border to North Korea is only about thirty minutes to the North.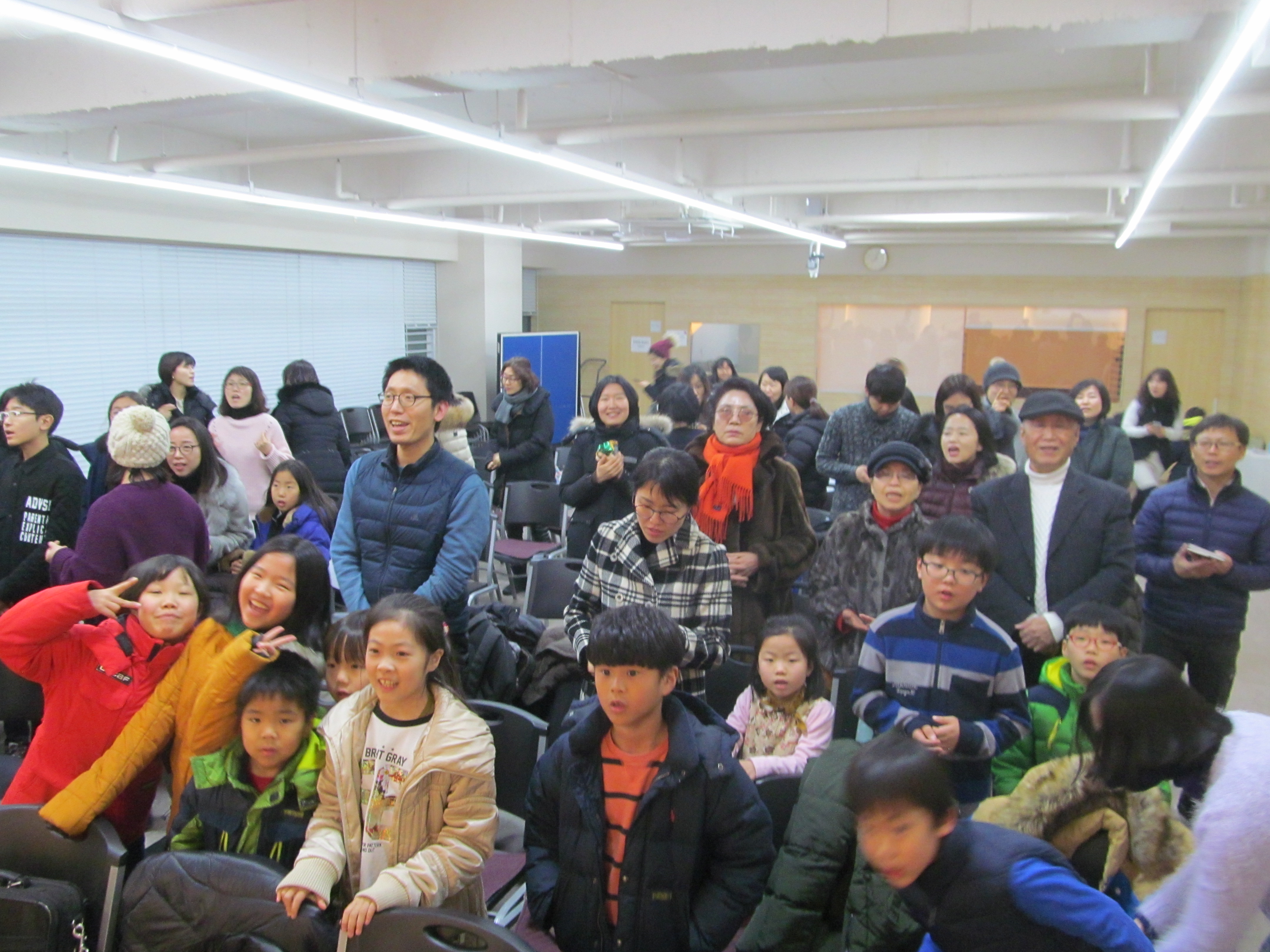 Midweek in Ilsan, Korea
On Thursday morning I travel one and a half hours to Seoul to teach a three hour class on Church History, mostly for the church staff.  There are about forty at the class. I am very impressed that a brother named Alexei who lives in Vladivostok, Russia traveled all the way to Seoul just to hear the classes I am teaching. I also meet a couple from Ulan Batur, Mongolia.  Just yesterday I had been praying to find a contact for the church there, as I want to visit some time. Then the next day, I meet these two. Pretty encouraging.
This is my second time in Seoul. It is a city of fifteen million. It is a very busy and crowded city—the principle metropolis of a country of fifty million. This is the only country I have been where the parking lots have conveyor belts that carry the cars vertically into the parking lots. The food here is wonderful, but with all the fermented vegetables, especially kimchi, it is quite different for American palates.  Of course, tension with North Korea is always present here, but right now there is discussion of peace talks, so it is slightly less tense than a few weeks ago, with the North firing so many intercontinental ballistic missiles.
The churches in Korea have about eight hundred members and six churches.  The majority are in the Seoul area.  They are led by Inhoe and Aeja Bae.  Continuing the long day, I next travel by fast train to Daegu. The trip from the Northwest of Korea to the southeast is about three hundred kilometers, but with speeds of well over two hundred kilometers per hour, we arrive in only ninety minutes. The countryside is quite different from my experience. There are factories and high rises even in the countryside, dispersed among very well organized farms, and lots of mountains. This is a beautiful if crowded country.
I arrive in Daegu, a city of 2.5 million. I am told that this is a very conservative city. The majority here are Buddhists, yet I see many churches. Christianity has become a major force in this formerly predominantly Buddhist country. They seem to take their Christianity fairly seriously here, but then Koreans take almost everything seriously. Koreans are almost painfully polite. When I ask someone their opinion about controversial topics, they are too polite to express their thoughts, unless I insist. The politeness is different but also charming.
Leaders in Daegu
There are two churches here in the southern part of South Korea. One is here in Daegu, with about forty members. The other is in the second city of the country, Busan, with about fifty-five members. There is one full time leader couple here, Tongjin and Hyunji Kang.   I speak on Living By Faith, from Hebrews 11. The disciples here are so encouraged, it is hard to describe. They have never had an outside speaker in the almost twenty years the church has been here. Many travel more than 100 kilometers from Busan for the class.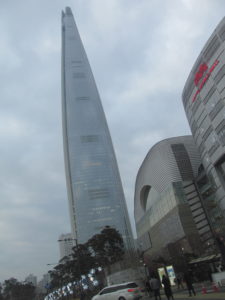 Lotte Tower 125 stories tall.  A very impressive building.
Saturday morning includes an early morning train ride back to Seoul. I teach two classes,  one on God and Science and one on Freedom in Christ.  The house is packed, with about 250.  Their faith is so impressive.  I am hoping to visit the church there this year.  Sunday is a great day. The men meet in the morning, with more than 250, and the women in the afternoon, again with more than 250.  The singing is really beautiful. My lesson is Malachi: Faith or Faithful, about the need for us to be faithful to God.  I spend the afternoon with Brandon Park and his beautiful family. They lead a region of the church. We travel to the top of the Lotte Tower. It is 125 stories tall—by far the tallest I have been able to go up in.  Seoul is a beautiful city at night.
Women's church in Seoul
I am up around 4:00 AM for a flight to Cebu. Please consider visiting the churches in Korea. The church is mature and very loving. One thing that is needed is a revitalization of the campus ministry. Will one of you consider coming to this wonderful country for a one year challenge to help build the campus outreach in Korea?
Cebu, Philippines January 15-18
The flight to Cebu, Philippines is four hours. This is the second largest city in the Philippines.  It is on the island of the same name. Cebu is one of the islands in the region of the Philippines known as the Visayas.  This is the central section of the archipelago. They speak Visayan here. Of course all also speak English. Cebu is a city of about three million on an island with more than five million. This week is the festival of Sinulog.  This is a massive Roman Catholic celebration, highlighted by the carrying of the Christ idol through the streets. The Catholicism here seems to me to be quite superstitious. People pay women to do a ritual dance and pray for healing, wealth or children. The faith of these people seem sincere. The city is practically shut down for this event.
---