---
---
Dr. John Oakes is starting a three week missionary teaching trip to Russia, Japan, Mongolia and Kyrgistan.  Right now I am in Tokyo, passing through to Osaka, Japan.  I will be posting regularly while traveling.
Vladivostok, Russia July 13-16
The first stop on my teaching trip this summer is Vladovostok, Russia.  Travel here took thirty-six hours.  I crossed seventeen time zones. It is more than four thousand miles from Moscow to Vladivostok. This city of about seven hundred thousand is in Far Eastern Russia.  It is the principle port city of Russia on the Pacific. It is quite close to North Korea. This is a beautiful city with its low lying hills and wonderful ocean views.  It has a cold winter, but a mild summer. The setting is similar to San Francisco. This is a fairly new city, having only been founded by Russia as its Pacific port in the nineteenth century. The economy here is relatively strong. It is fun being here during the World Cup as they are having soccer fever right now in Russia.
The church I am visiting is having its twenty-fifth anniversary this year. They have about two hundred members.  I am staying in the home of Pavel and Olga Savchenka.  My friend Alexei Chernenkin is another mature member of the church here and the one who asked me to come. The leader couple are Ruslan and Lena Magomedova but they are in Novosibirsk for a wedding during my visit. The church here is quite isolated.  There are two very small churches here in the Far East, one in Khabarovsk and another in a small city about 200 kilimeters from Vladivostok.  Other than that, the nearest other Russian church is more than two thousand miles away.  Imagine that.  The church in Seoul is fairly close, but for cultural and historical reasons there is little interaction with the Korean churches here.  For this reason, the church here almost never has outside speakers, especially non-Russians. They are hungry for biblical teaching and for encouragement.
This is my fourth visit to Russia, but my first to the Far East of the country. This is a very Russian place, as it was a special city under the Soviet Union due to its military importance. This meant that access to the city was limited. It is still a bit of a surprise to me that the Christians here are mostly strong supporter of Putin and his government.  In my American arrogance I assume that they would look to the US for a political model.  This is definitely not the case. Russians seem to prefer the stability of a strong government over the instability of a multi-party system.  The government here strongly supports the Orthodox Church, as they are the traditional church here, and they are strong politica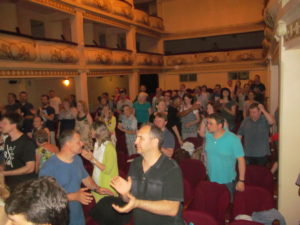 l allies with Putin.  Two years ago, harsh measures to make it difficult for independent churches to operate were passed, but it appears that they are not strongly enforced.  Christians can more or less operate freely here, but they live under threat that at any time this freedom can be taken away.
On Friday evening I speak for the church on Freedom in Christ. The people are very encouraged. It seems that nearly every member made it to the service. After we had a dinner with one of the house churches. There is a strong family feeling here. Saturday I teach for four hours on the Book of Hebrews.  A few of those in attendance were literally in tears because of having so much joy for hearing deeper teaching from the Bible.  This is amazing to me. Sunday I teach a two hour class on the Christian worldview, and later a sermon on Jesus in the Old Testament.  There were many visitors at both events, which is a great encouragement. It is difficult to describe how encouraged the people in Vladivostok are to hear deeper Bible teaching. Sunday night we stay up very late to watch the World Cup final. The Russians, of course, are proud to host this event.
Monday is my last day here. Alexi takes me on a tour of this beautiful city. The highlight is a visit to the train station which is the terminus of the famous trans-Siberian railway.  The rail line is the longest in the world, by far.  It is 9200 kilometers long, which is about 5700 miles.  After this, I have time with the campus and teen group, taking many questions, followed by a three hour teaching session, mainly for teens and campus, which was a class on God and Science and a second class on the Existence of God.  It is at this presentation that there are the most visitors.  About 75 attend, and perhaps twenty of them are guests. Today the US president had a summit with Putin. It is interesting to discuss this meeting with Russians. We all agree that politics has nothing to do with our relationship as brothers and sisters in Christ.  Please pray for the Christians here in Vladivostok. They crave fellowship with fellow believers. Perhaps it is a bit of a stretch, but this would be a really great place to visit to discover this beautiful city and to visit some very warm and encouraging fellowship.
Osaka, Japan July 14-15
Tuesday is a travel day. The flight to Tokyo is only about two hours, but the weather here is quite a bit hotter.  I am greeted by Takeshi and Manami Yamasaki, who lead the group here.  I am passing through Tokyo on the way to Osaka, but I will be back here in a couple of days to teach for the church in Tokyo. I spend the night with Mika and Katsu who work for the church, leading the singles and the older group.
On Wednesday morning I travel about two hundred miles to Osaka on the bullet train.
---