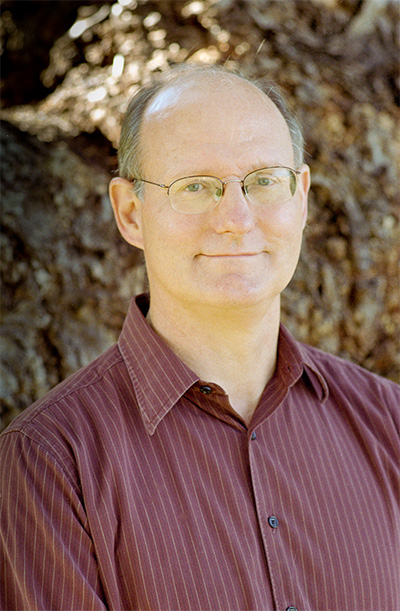 About Dr. John Oakes
John Oakes was born and raised in Connecticut. He earned a BS in Chemistry at the University of Connecticut in 1977. John became a Christian as a graduate student in 1978 as part of a campus ministry in Boulder Colorado. It was in 1984 that John earned his PhD in chemical physics from the University of Colorado.
He and Jan were married the same year. They moved to Spokane, Washington, where John was a chemistry professor at Gonzaga University. From there they moved to San Diego, where they worked in the ministry from 1986-1988.
At that time John returned to teaching. He taught at UCSD, Mesa College, and other colleges in the area. In 1993 John and his wife and three children moved to Fond du Lac, Wisconsin, where he had a position as a professor of chemistry and physics at Marian College. In 2000, their family returned to San Diego where John works as a professor of Chemistry at Grossmont College. He and Jan have three children: Ben, 32; Elizabeth 30; and Kate 28 years old.
John is the author of eleven books. The first (1999) is "Is There a God? Questions of Science and the Bible," As the title suggests, the book covers both the evidence for God from science and the scientific questions raised by the Bible. His second book (2000) is "Daniel, Prophet to the Nations." This is an exposition of Daniel which combines a discussion of the practical applications of the book with a detailed analysis of the prophetic content in Daniel. His third book (2001) is "Reasons for Belief: A Handbook of Christian Evidences." This is a general Christian evidences book designed to encourage the faith of believers and to help create faith in non-believers. His fourth book (2005) is "From Shadow to Reality." This book explores the numerous prefigures, foreshadows, types and antitypes in the Old Testament which bear witness to the life and ministry of Jesus Christ, as revealed in the New Testament.
In 2008 he published "That You May Believe."  The book is on the miracles of Jesus, focusing on the theological and practical implications of the wonders and signs worked by Jesus. The sixth, "Field Manual for Christian Apologetics" (2011) is a summary of the hundreds of questions and answers received at EFC, along with a number of essays on various apologetics topics.  The Christian Story: Finding the Church in Church History Volume I (2012) covers the first 430 years of the history of Christianity, Volume II (2015) covers the fifth century through pre-Reformation. Volume III (2018) covers the Reformation, Counter-Reformation and the Second Reformation, through 1730. In 2012 John published Mormonism: What Do the Evidence and the Testimony Say?  In 2014 "Golden Rule Membership" was published, with Linda Brumley as a co-author. It focuses in on the proper use of freedom in Christianity as well as taking a fresh look at the role of members in a Christian community. All books are available at www.ipibooks.com. John has also published a number of CDs on Islam, The Book of Daniel, The Problem of Pain and Suffering, Hebrews, World Religions, Revelation, Christian Theology, Old Testament Survey, the Book of John and many others.
John's interest in Christian evidences sprang naturally from his being a scientist. John Clayton's ministry was a great inspiration for him. Having a dual PhD in chemistry and physics, and having taught for 30+ years has made him uniquely qualified to deal with areas of science and the Bible. Besides science, John is very interested in church history and history in general. He is also interested in philosophy and studies in the Christian Worldview.  He has taught a number of classes on the Christian Worldview, Christian Theology and related topics.
He is the president of Apologetics Research Society, a California non-profit corporation. ARS sponsors the evidenceforchristianity.org website and many other projects. ARS has sponsored ten International Christian Evidences Conferences in LA, Chicago, Houston, Miami, San Diego and York, Nebraska. Topics have included Christianity and the Paranormal, Science and Christianity, Christianity and Culture, the Christian Worldview and more. John also writes a monthly newsletter through the evidenceforchristianity web site.  He is also the force behind the ten-course sequence Certificate in Christian Apologetics offered by ARS.
John has taught adults, campus, singles and teens for more than 170 churches, in more than 75 countries and at 50 universities. Subjects he teaches include: God, Science and the Bible; History, Archaeology and the Bible;  Daniel, Prophet to the Nations; From Shadow to Reality; How We Got the Bible; Revelation, Ezekiel, Post-Exile Prophets, Luke, John, Evidence for Jesus; The Problem of Pain and Suffering; Church History; Old Testament Survey;  Hebrews; Christian World View; World Religions; Baptism: Into Christ; and many more.
As far as other interests are concerned, between serving as an appointed teacher for the church in San Diego, his role as a professor, and as a husband and a father, to say nothing of his being an author, John is not left with a lot of free time. When he does have a bit of spare time he likes to run and work in the garden.