ARS, together with the Los Angeles International Church of Christ, are putting on a one day conference designed primarily for university students and singles.  The event includes a "Dialogue With a Skeptic" between Douglas Jacoby and Michael Shermer.   To pre-register (cost $5) go to   http://laicc.org/resources/answers        See below for more information.   We will be having a follow-up event Sunday AM with Dr. John Oakes doing a class on the Christian World View 10am at Veterans Auditorium – Culver City.  4117 Overland Avenue, Culver City, CA 90230.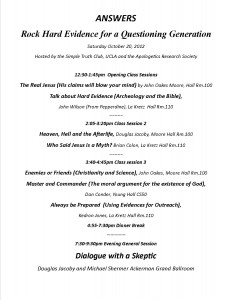 The event will begin at 12:30 at Moore Auditorium on the UCLA campus.   UCLA campus map
Cost:  $5 for the entire day's program.
Conference Title   Answers: Rock Hard Evidence for a Questioning Generation
Schedule:
12:30-1:45
The Real Jesus: This Would Blow Your Mind.   John Oakes  Moore Hall  UCLA
Talk About Hard Evidence!  Archaeology and the Bible  Dr. John Wilson  LaKretz Hall
Class session #1 2:05
Who Said Jesus Was a Myth?  Brian Colon.   LaKretz
Heaven, Hell and the Afterlife.  Dr. Douglas Jacoby  Moore Hall
Class session #2 3:40
Christianity and Science: Enemies or Friends  Dr. John Oakes   Moore  Hall
Master and Commander: The Moral Argument for the Existence of God.   Dan Conder   Young Hall
Always Be Prepared:  Using Evidences for Outreach  Kedron Jones  LaKretz Hall
Evening:
Dr. Douglas Jacoby and Dr. Michael Shermer will be taking part in a public dialogue about God.  Douglas is a Christian, author of more than a dozen books, who has lectured all over the world on evidence for Christianity.  Dr. Shermer   us the founder and president of the American Skeptic Society, and a monthly contributor to Science magazine.  Location:  Ackerman Grand Ballroom at UCLA  7:30-9:30
For more information, contact John Oakes at 858-505-8841 john.oakes@gcccd.edu or Tony Kettering  at 310-955-8522 tonykettering@hotmail.com .
Simple Truth Campus Ministry is excited to Highlight

Dialog with Douglas Jacoby

(Christian Apologist) &

Michael Shermer

(President of the American Sceptics Society)

Also featuring daytime classes sponsored by the ARS (Apologetics Research Society)

When: Saturday, Oct. 20th

          12:30 – 5:00pm various classes (classrooms to be announced)

             5:00 – 7:00pm Dinner break                                   (dining on campus or in near­by Westwood Village)

             7:30 – 9:00pm Main Event – "Dialog with a Sceptic"                                   (Ackerman Grand Ballroom)
Where:UCLA
Cost: $5
Who: This event is open to anyone (teens, campus, mar­ried, singles…)
Register Now