John Oakes traveled to Ireland and the UK to teach for a number of churches June 6-16.  See below for the report on this teaching trip.
(some have requested the notes and power points for the lesson, so I am posting some of them here)    WhatIsTruth PPT   What is Truth notes  LivingbyFaith PPT  livingbyfaith notes   Science and God PPT
Dublin June 6-9
Dublin, with a population of nearly two million, is the capital of Ireland.  It is the only large city in a country which is still fairly rural.  Ireland is the greenest country on earth.  It has the most lovely countryside you will find.  It is worth remembering that in the sixth through ninth centuries Ireland was in many ways the intellectual, cultural and spiritual center of Western Christianity.  This country has a wonderful tradition of art, literature and religion, despite its relatively sad history of the last two or three centuries under British domination.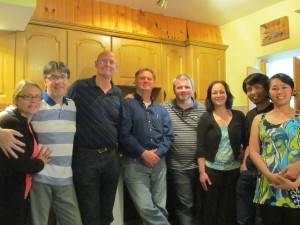 Dublin June 6-9
Dublin, with a population of nearly two million, is the capital of Ireland.  It is the only large city in a country which is still fairly rural.  Ireland is the greenest country on earth.  It has the most lovely countryside you will find.  It is worth remembering that in the sixth through ninth centuries Ireland was in many ways the intellectual, cultural and spiritual center of Western Christianity.  This country has a wonderful tradition of art, literature and religion, despite its relatively sad history of the last two or three centuries under British domination.
The church I am visiting here is fairly small, with just over thirty members.  They have not had full time leadership for many years.   I am staying with Charlie and Jeanette Hynes and their son Daniel.   They have been a very faithful family for many years.  Daniel is a very smart kid and is a student at Trinity College, which is lucky for me because it gives me access to visiting this amazing school including free access to the famous library and Book of Kells.  The church here went through a crisis about ten years ago which brought its membership down below ten.  They have recovered well from this low and are faithful, although they can use some encouragement from outside.  Lately, they have had students from San Diego take the one year challenge to help encourage the church here.   I am sure more would be welcomed.
On Saturday I visited central Dublin with Daniel Hynes.  We visited Trinity College, which was established in 1592.  Many of the buildings are quite old and have great architecture.  We visited the library, with the Book of Kells which is, arguably, the most beautiful Bible ever created.  It came from the Irish monks in the late eighth century and has some incredibly impressive art in the text.  We also visited the old library which was the inspiration for the library scenes in the Harry Potter movies.  From there we walked to the Chester Beatty Museum.   Here is found the largest collection of second and third century manuscripts in the world, including a piece of John from approx. 150 AD, manuscripts of Luke, Acts and Philippians/Colossians from about 200 AD and many more.  For me this is like a kid in a candy shop.  After some Irish coffee I return home with Frank, one of the leaders.
In the evening I taught a class for the leaders on Living By Faith (Hebrews 11).  This is a very helpful lesson for these leaders as they have been serving God faithfully for 20+ years and are tempted to be weary and lose heart.  We need to have faith in things unseen, like God working behind the scenes even when we do not see the immediate effect of our service.  I really feel at home with these faithful men and women of God as we share our hopes and dreams for God's church.
Church on Sunday was very encouraging.   With a membership of thirty, there were nearly fifty in attendance, including many guests.  The lesson was From Shadow to Reality.  Afterward, I spent time with the pre-teen group in the church, answering their questions.  We could have gone for hours, as the kids have a seemingly endless list of questions about the Bible and about science.  The church here has a great family atmosphere.  After church I got to see my first hurling match.   This is a very fast-paced game, similar to lacrosse, which is unique to Ireland.   The ball moves very fast, hit by a kind of paddle-like racket.  There is a lot of contact in this sport.
Monday was a day of relative rest, with time spent mostly studying.  In the evening I was able to teach a class on God and Science in central Dublin.  There were thirty or so at the meeting, with about ten guests.  The question and answer was very lively.  The group asked deep questions, with many being of a theological nature.  I can see that the Irish, as a whole, are deep thinkers.  After this we had a pint of Guinness, which is a requirement here in Ireland, along with some amazing Irish music.
As I leave the church in Dublin I feel good that the church here has a great basis, especially in the family atmosphere.  Their weakness is in being a bit isolated and that the leaders are a bit worn out from years of labor.  The need is for fellowship and perhaps for some leadership to come here from outside Dublin to help the church to have vision to make a great impact on Ireland for God.
London June 10-12
I arrive in London Tuesday afternoon.  This is my fifth visit to the church in London.  This is one of my favorite cities in the world (but then, so is Edinburgh).  London is a bustling financial capital with more than 15 million inhabitants in the metro area.  The population density is very high here and most people get about by train, tube, bus and other public transport.  There are so many quaint neighborhoods, museums, shops and restaurants with a fantastic variety of cuisines.  London is one of the most cosmopolitan cities in the world with a great variety of people from South Asia, Africa, the Caribbean, throughout Europe, and North America.  There are over 500,000 students in this city.  Then, of course, there are the incomparable British Library and British Museum.
The church I am visiting here has almost nine hundred members.  The principle purpose of my visit here is to encourage the campus ministry.  They revived the campus work about four years ago.  The group has grown to about twenty-five.  The students are scattered, a few here and a few there.  The campus group is now led by Brian and Laura Hinkle.  The church as a whole began growing last year, with one hundred baptized and many restorations.  They are also helping to support and encourage a number of churches throughout the UK and Ireland.  I am met by Jeremy Akinlade as well as Ella Agerback.  It is great seeing Ella as my daughter Kate and I stayed with the Agerbacks several years when Ella was elementary school.  She is now a faithful and encouraging part of the campus group.  Also encouraging is to hang with Ben Dannett, the son of the Dannets who we have stayed with in the past as well.  In the evening I had a personal Bible study with a student from King's College London.  He has almost no background in Christianity, but is open to becoming a Christian. Wednesday was a very busy day.  I had a personal study with a graduate student Flurion from London University who is a very deep thinker.  He has questions on a level I have not heard before on an unlimited number of topics.  After this a number of us went and shared with many students at the University of London, followed by my leading a group study with sixteen in attendance, including many guests.  This was great fun.
The day was finished with two presentations at King's College on God and Science and on evidence for Jesus  from miracles and prophecies.  There are two hundred at the presentation with about forty guests.  This was a very encouraging event.
Thursdayis a travel day to Edinburgh on the fast train.  It is a great blessing to visit my friends in Scotland.
Edinburgh, Scotland, June 12-13
The trip to Edinburgh is over four hundred miles, but this is a fast train, traveling at about 100 miles per hour on average. There is nothing like this is the States.  The scenery is out of this world, with the rolling hills, countless sheep, cliffs overlooking the sea and the greenest countryside you have ever seen.  I strongly suggest anyone who can to take the train from London to Edinburgh someday.
This is my fourth visit to Edinburgh. It is absolutely at the top of my list of favorite cities to visit.  The architecture is stunning here.  They do not know how to make an ugly building. The Royal mile, the Edinburgh Castle, the Parliament, Scott's Monument, Holyrood Palace (Home of Mary, Queen of Scots)…. The list goes on.  There is so much history in this city, as well as culture and an intellectual history second to none.  This is the site of the Edinburgh University, home of Lord Kelvin, David Hume, James Hutton, and so many more.
But I am here to encourage and to teach for the churches in Glasgow and Edinburgh. The Glasgow Church of Christ has about twenty members and the Edinburgh church around thirty-five. Although the churches are fairly small, there are many mature members and the Bible knowledge here is surprisingly strong. They love to study God's Word.  I have dinner with an old friend Bob and watch the world cup in a local pub. Tomorrow I begin to teach for the churches here.
Friday AM, after a run to the top of Arthur's Seat which offers the best view of the city.  I am blessed to visit the Scottish National Museum before meeting with Ben Brady.  Ben and his wife Nicola have been leading the church here for over ten years.  It is a bit shocking to see him, as he has had what amounts to a stroke due to tumors in his brain.  He wears an eye patch and one side of his face has lost muscular control.  Yet, I am inspired by his strength of spirit to continue leading the church here in Edinburgh.   We climb back up again to the Royal mile and down the other side for some haggis pizza before going to the Eric Liddle Center (the famous Scottish runner of Olympic and movie fame from Chariots of Fire) to teach for the church.  About forty are there for a lesson titled "What is Truth?" about the Christian World View and its superiority to other world views such as Naturalism or Postmodernism.   The church is eager for teaching.
Saturday I am up early for two classes for the church.  The first is "Living by Faith" from Hebrews 11.  The second is Freedom in Christ.   About thirty-five are here for the lessons.  Then a quick bite with Ben before getting off on a train to Manchester.   Much to my horror, I got on the wrong train, going instead to Glasgow.  Getting over my embarrassment, I figure how to get back to Edinburgh, with the help of some marvelously friendly Scots, finally getting on the right train, but two hours late.  Again, the train goes through marvelous countryside with hedgerows, rivers and idyllic farmland to the second largest city in the UK—Manchester.  I am blessed to pass through the Lake District, which is the inspiration for the great English poets, Keats, Wordsworth, Byron and others.
Manchester, UK June 14-16
Being two hours late to Manchester means that I missed the talk I was giving for the church on Saturday evening.  Thankfully, they were able to get a hold of the members and, even though I showed up two hours late, they were able to hold the meeting with a two hour delay.  I was able to teach on Freedom in Christ to sixty.  Not bad for a last minute change
I am staying with Bruce and Maggie Miller.  They have been leading the church here for a few years.   I am also blessed to see my friend Andy Boakye.  The church here has ninety members.  There are four campus interns visiting here for a couple of weeks to help with the church, including inviting people for the meeting I am doing while I am here.  Three are here from Seattle and one from North Carolina.  They have given a spark to the church.  Right now there is not a strong campus ministry here, but they have vision to have impact on campus.  I am sure they would be happy to have one or two young people come here to help with the campus work.
Like Dublin, this is a fairly mature church.   It is also very diverse.   They are reaching out to one of the great cities in the UK.  Manchester is a city of a bit short of three million.   It was the capital of the cotton industry and the heart of the industrial revolution in England.  Obviously, this industry has moved elsewhere and for a bit the city struggled to find its way.  Now, after fantastic renovation of the downtown area and other efforts Manchester is making a comeback.  It always helps to be the home of the greatest football (soccer) team in the UK:  Manchester United.  Tonight England plays Italy in the world cup.  It did not go England's way, unfortunately.
I taught for the church on Sunday on God and Science.  With ninety members there were about 150 in attendance.   They did a great job of reaching out to the community.  I also did a question and answer session with the teens and preteens.  There were about thirty in this group and the questions were really great.  The English, as a rule, are deep thinkers and this is reflected in the children.  After that we had a barbecue, Mancunian (slang for a person from Manchester) style, which means it is raining so the food is eaten inside.  Summer weather here is in the sixties (16-19 oC), cloudy, and often raining.  I also had a really encouraging talk about the teaching ministry with Andy Boakye, who just finished up his PhD in Theology.  He has great vision for helping churches in the UK and beyond.
Monday is travel back to the States.   I better get home as my daughter Kate is being married next Sunday to her best friend Wes Hall.  They are going to be known as Hall and Oakes.
John Oakes 6/15/2014