Dr. John Oakes is starting a three week missionary teaching trip to Russia, Japan, Mongolia and Kyrgistan.  Right now I am in Kyrgyzstan at a conference for leaders in Central Asia.  I will be posting regularly while traveling.
Vladivostok, Russia July 13-16
The first stop on my teaching trip this summer is Vladovostok, Russia.  Travel here took thirty-six hours.  I crossed seventeen time zones. It is more than four thousand miles from Moscow to Vladivostok. This city of about seven hundred thousand is in Far Eastern Russia.  It is the principle port city of Russia on the Pacific. It is quite close to North Korea. This is a beautiful city with its low lying hills and wonderful ocean views.  It has a cold winter, but a mild summer. The setting is similar to San Francisco. This is a fairly new city, having only been founded by Russia as its Pacific port in the nineteenth century. The economy here is relatively strong. It is fun being here during the World Cup as they are having soccer fever right now in Russia.
The church I am visiting is having its twenty-fifth anniversary this year. They have about two hundred members.  I am staying in the home of Pavel and Olga Savchenka.  My friend Alexei Chernenkin is another mature member of the church here and the one who asked me to come. The leader couple are Ruslan and Lena Magomedova but they are in Novosibirsk for a wedding during my visit. The church here is quite isolated.  There are two very small churches here in the Far East, one in Khabarovsk and another in a small city about 200 kilimeters from Vladivostok.  Other than that, the nearest other Russian church is more than two thousand miles away.  Imagine that.  The church in Seoul is fairly close, but for cultural and historical reasons there is little interaction with the Korean churches here.  For this reason, the church here almost never has outside speakers, especially non-Russians. They are hungry for biblical teaching and for encouragement.
This is my fourth visit to Russia, but my first to the Far East of the country. This is a very Russian place, as it was a special city under the Soviet Union due to its military importance. This meant that access to the city was limited. It is still a bit of a surprise to me that the Christians here are mostly strong supporter of Putin and his government.  In my American arrogance I assume that they would look to the US for a political model.  This is definitely not the case. Russians seem to prefer the stability of a strong government over the instability of a multi-party system.  The government here strongly supports the Orthodox Church, as they are the traditional church here, and they are strong politica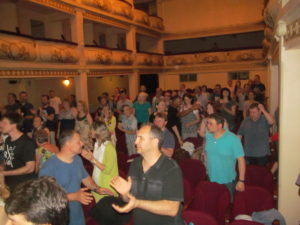 l allies with Putin.  Two years ago, harsh measures to make it difficult for independent churches to operate were passed, but it appears that they are not strongly enforced.  Christians can more or less operate freely here, but they live under threat that at any time this freedom can be taken away.
On Friday evening I speak for the church on Freedom in Christ. The people are very encouraged. It seems that nearly every member made it to the service. After we had a dinner with one of the house churches. There is a strong family feeling here. Saturday I teach for four hours on the Book of Hebrews.  A few of those in attendance were literally in tears because of having so much joy for hearing deeper teaching from the Bible.  This is amazing to me. Sunday I teach a two hour class on the Christian worldview, and later a sermon on Jesus in the Old Testament.  There were many visitors at both events, which is a great encouragement. It is difficult to describe how encouraged the people in Vladivostok are to hear deeper Bible teaching. Sunday night we stay up very late to watch the World Cup final. The Russians, of course, are proud to host this event.
Monday is my last day here. Alexi takes me on a tour of this beautiful city. The highlight is a visit to the train station which is the terminus of the famous trans-Siberian railway.  The rail line is the longest in the world, by far.  It is 9200 kilometers long, which is about 5700 miles.  After this, I have time with the campus and teen group, taking many questions, followed by a three hour teaching session, mainly for teens and campus, which was a class on God and Science and a second class on the Existence of God.  It is at this presentation that there are the most visitors.  About 75 attend, and perhaps twenty of them are guests. Today the US president had a summit with Putin. It is interesting to discuss this meeting with Russians. We all agree that politics has nothing to do with our relationship as brothers and sisters in Christ.  Please pray for the Christians here in Vladivostok. They crave fellowship with fellow believers. Perhaps it is a bit of a stretch, but this would be a really great place to visit to discover this beautiful city and to visit some very warm and encouraging fellowship.
Osaka, Japan July 14-15
Tuesday is a travel day. The flight to Tokyo is only about two hours, but the weather here is quite a bit hotter.  I am greeted by Takeshi and Manami Yamasaki, who lead the group here.  I am passing through Tokyo on the way to Osaka, but I will be back here in a couple of days to teach for the church in Tokyo. I spend the night with Mika and Katsu who work for the church, leading the singles and the older group.
On Wednesday morning I travel about two hundred miles to Osaka on the bullet train. The trip is two hundred fifty miles in two hours. I pass Mount Fuji on the trip. The countryside here is actually quite crowded with intensive farming, but also much housing and industry.  Osaka is the second city of Japan with nine million in the prefecture. It has a slightly more relaxed feeling than Tokyo, but only slightly. I am met in Osaka by Shohei and his wife. They are newly married. For ten years there was no full time leadership in this church. The church began growing again two or three years ago.  They have grown from thirty to forty and the group is beginning to have vision again.  They would really love to have a single or campus brother or sister come here for a one year challenge to help build up the campus ministry.  You would absolutely love this challenge if you can come here. Please consider coming to Osaka.
In the evening I teach a class on Freedom in Christ to the church.  There are about thirty-five in attendance, including a few guests. The reception here is so enthusiastic. I feel so satisfied to be able to give in a small way to this intrepid group of Christians.
Tokyo, Japan July 15-18
I return to Tokyo by bullet train. This is a mega city. By some measurements it is the largest city in the world. It is also a very crowded city, but the Japanese are very orderly and the city is clean and one of the safest in the world. The metro here is perhaps the best in the world. You can set your watch by the trains. The people give great importance to politeness in Japan. Outwardly they are very humble. The food here is awesome. Sushi is the most common food and almost everything is very healthy. If you see an overweight Japanese person, probably he or she spent a few years overseas. The religion here is a somewhat confusing mixture of worship in traditional Shinto shrines and in Buddhist temples. It seems that for most of the people this is mostly just tradition, not a belief they commit their lives to. Despite repeated efforts by missionaries, Christianity remains the religion of less than one percent. Japan is the Mount Everest of Christian evangelism.
The church here has three hundred members, which makes it large by Japanese standards for any Christian group. They have struggled to grow lately. A strength is the teen group which has had several baptism lately. There are many mature Christians here. A major emphasis the last few years has been raising up a second generation of young leaders. They have been able to send full time ministry staff to Okinawa and to Osaka. There are groups in Nagano and other cities still waiting for help in this way, but I see great progress in this area.  Please consider a long term visit to Tokyo to help with leading so that the smaller churches can have the help they need.
On Thursday I teach a lesson on Jesus in the Old Testament to about one hundred and forty. The church is so excited to hear deeper teaching about Jesus. They really encourage me. The lessons are available live on youtube. One sister shared that she was crying she was so moved, even though she was watching at home. On Friday I teach for five hours to the staff on Evidence for Jesus and in the evening a two hour lesson on Answering the Hard Questions.  The Christians are coming to lessons every day from Thursday to Sunday. Again, I see much thirst for knowing God and how to share him with others. On Friday I met two PhD scientists who are interested in teaching and have been given opportunity recently to speak on Sundays for the church. In the evening I teach a two hour class for the church on "Answering the Hard Questions." In this mostly atheist country, the believers need to be able to answer some of the most basic questions about the Christian God, such as why there is suffering and evil.
On Saturday after some great lunch of Japanese pancakes with the singles ministry, I taught two classes for the whole church on God and Science and the Reliability of the Bible. For an "optional" meeting of a church with three hundred members there were 350 in attendance. This is a lot of guests, especially here in Japan. What a great victory for the church here. Sunday is a quick lesson on Freedom in Christ before I rush out to Narita Airport for a flight to Ulan Bataar, Mongolia.  It is hard to describe how encouraged I am as I leave Tokyo for the many friends I have made and to see the church faithful and serving God in this relatively godless society.
Ulan Bataar, Mongolia July 22-26
The flight to Ulan Bataar is 4-1/2 hours. It includes a fantastic view of Mt. Fuji, most of Japan, the Korean peninsula, northern China and the countryside of Mongolia. I am surprised how green it is here, with beautiful forested mountains and seemingly unending rolling grasslands.  This is a huge country which is very sparsely populated. It is three times the size of California with a total population of three million.  Thirty years ago it was only half a million. Ulan Bataar is a city of 1.5 million, meaning half of the total population lives in this one city. The rest is countryside. Half of an hour from the city and all that is left is dirt roads. Mining and herding makes up most of the work here. There are vast numbers of sheep, goats, cattle and horses. The diet consists of mostly meat, milk and bread.  There are virtually no fresh vegetables or fruit here.
The principle religion here is Buddhism. Before the 1920s this was a very Buddhist place. More than 25% of the males were monks at any one time.  Naturally, the population did not grow much. Then the Russians came in and set up a Communist government. Thousands of monks were killed and atheism became the official point of view.  Despite the terrible persecutions, Russia did help develop the country considerably.
Mongolia got back full independence in 1992 and now has democratic institutions. They have a long way to go, as the infrastructure is very limited, but the country has been growing a lot. Christianity has found a strong foothold in the past twenty years, with many missionaries coming here.
On Tuesday I teach a lesson at Mongolia International University on Church history. I got to meet several guests and to have a personal study with a professor and another study with a student who is close to being baptized. In the evening I did a class, "The Bible From God or Man?" Well over half in attendance were visitors.  The church here is so encouraged and encouraging. I am staying at Mongolia International University. Next door are Jung Ho and Joy, the couple who came here from Seoul, South Korea to lead the church. The group went through a lot of instability in the past few years.  A group split off recently, so the church here has been on tough times, so having Jung Ho and Joy here is really helping.
On Tuesday I take an excursion into the countryside. Within about fifty miles or so of the capital all paved roads come to an end. We spend more than two hours on dirt paths which are note really even roads at all, arriving at a wonderful village which is very Mongolian and very isolated. I get to ride a Mongolian horse on a Mongolian saddle which is very unique. The scenery here is absolutely amazing. The people are so friendly, wanting to share whatever they have with us.
On Wednesday I teach again for two hours on church history and give a class for the church here on freedom in Christ. I am also fortunate to get involved in two personal Bible studies with people who are coming to the church. For some reason the hot water has been turned off in the entire city for almost two weeks but we are getting by just fine.  The church here can really use some help. What would be really great would be if a very adventurous person would be willing to come here to work with the campus at Mongolian National University.  There are so many open people here who would love to study the Bible.  The good thing is that they want to study in English. Please consider coming here.
On Thursday I am off to Bishkek, the capital of Kygryzstan.
Bishkek, Kyrgyzstan July 26-August 1
The flight to Bishkek is four and a half hours through the desert and mountains of Mongolia and Western China. This is my first time in Central Asia, so all is new to me. I am here to take part in a leadership conference of the Central Asian churches. The conference is at Issyk Kul, which is a huge lake which is four hours from Bishkek. It is 60 by 100 miles and is the second deepest lake in the world. The name means warm lake because of the fact that it is heated from deep in the lake. It is slightly salty but very clean. We drive through a fertile plain where Bishkek is located, through a very large mountain range to the lake. In the distance there are the Tian Shan mountains which are snow-capped. This is the third highest mountain range in the world with peaks as high as 24,000 feet. It is a fantastically beautiful setting.
Kyrgyzstan is one of the "stans," which include Kazakhstan, Tadzikistan, Uzbekistan and Turkmenistan.  All are former Soviet republics, and all have been independent for over twenty-five years. Leaders from churches in all of these countries are at this conference. There are about sixty leaders in all, including a few from Moscow who came to help with the youth and family ministry.  Some came all the way from Moscow primarily to help with the children so the parents can get the most out of the conference. What great hearts. I am fantastically inspired by these faithful Christians who serve in a difficult part of the world, as the governments are not very supportive and these are mainly Muslim countries.
On Friday I got to teach two classes, one on Galatians: Living by Law of by the Spirit and one on 1 Corinthians 9.  Very few here speak English, but I am helped tremendously by Tammy Fleming who translates for me. I get some really great time with her and Andy who are heroes in the faith here in the Eurasian churches. I also get great fellowship time with Sasha Bzkashvili who leads the church in Moscow. The day includes swimming in the beautiful lake, lots of fellowship and volleyball.
For those who are willing, the need here is for native Asians and perhaps Ukranians or Russians who would be willing to spend time in one of these countries to stay for a few months or years. In many other countries the need is for campus interns. Here it is different. The need is for the local churches to see mature Christians and to seed the churches with faith.  They are very open for Americans to come here to find work or organize a business. You would be welcomed here and you would be so fulfilled helping the churches here.  Please consider this opportunity.
Saturday includes classes on our calling in Christ. I meet the leaders of the group in Almati, Kazakhstan. The story of their conversion has me in tears. It is really amazing.  He wanted to be baptized in Moscow, but he had a fiancé in Tashkent.  Without hesitation, Andy and Tammy Fleming paid for him to fly to Tashkent to talk to his fiancé about his decision.  He did and she studied in Tashkent and was baptized.  Two weeks later the brother  moved to Tashkent as a baby Christian where he married his fiancé six months later.  Very shortly later they moved to Ashkabad where they worked for the church, but were deported for sharing their faith. From there they moved to Bishkek, then to Dushanbe (Turkmenistan), then to Almaty, then to Bishkek, then back to Amaty.  All this within just several years.  Now they have been leading the church in Almaty for ten years.
I learn about the history of the church in Ashkabadh in Turkmenistan.  A year and a half after the church was planted the entire church was arrested, including a few visitors who had come for the first time.  They were asked if they were disciples, and all said yes, including the visitors!  The visiters were studied with in jail and were later baptized.  The leaders were deported. The government freed the group after a few days, but made all Christian religion illegal.  Religious meetings of more than two people were banned, but this group of two could not have a Bible.  Only one person at a time in their homes could have a Bible.  In this situation the church kept on meeting with literally only two at a time.  They would have church and "Bible talks" with groups of two.  They would have personal Bible studies with only two.  In these meetings no Bibles were allowed so they would memorize the scriptures and discuss them when they got together as no Bibles were allowed in church.  All of the Christians lost their jobs and their university degrees were made void.  In a miracle, five or six years later someone came to Turkmenistan and somehow convinced the government to let six Protestant churches gain legal status.  For some reason that is not clear, our church ended up being one of the groups and, not only were they made legal, but all the paper work and all requirements were voided, so it was simply given to them.
Another story is of a young woman who was hiking in the mountains near Almati, Kazakhstan.  She fell into a very cold mountain river. From there she was washed into an even larger river.  According to her, while she thought she would die in the river she prayed to God that she would be saved by a man who would eventually be her husband.  A brother from the church in Almati happened to be by the river. He reached in and grabbed her by her backpack.  After that she studied the Bible and was baptized. Six months later the couple were married and they are here at the retreat.
Sunday is an encouraging worship service with about seventy-five in attendance. Most encouraging was seeing more than thirty teens and preteens having a great time. All head back to their churches with a renewed sense of zeal and unity. Sunday includes an excursion to the countryside. We visit the location of the World Nomad Games.  They have an annual gathering of nomad peoples to do sports related to the nomad lifestyle such as shooting arrows from horseback.  Monday I get to teach a class on Jesus in the Old Testament for the few couples who have stayed over for a couple more days. Tuesday I return to Bishkek and the next day to the US. I leave tired but with a renewed spirit of hope from spending time with so many new friends in Russia, Japan, Mongolia and Central Asia.
John Oakes