Teaching Trip to South Asia  January, 2017
Delhi Jan 5-7
I arrive in Delhi after 24 hours of travel.   Delhi is the political capital as well as being perhaps the most important city of industry in India.  It is a mega city with a population of nearly 25 million.  Despite the massive population, Delhi is relatively easy to get around compared to other Indian cities, in part because New Delhi was laid out by the British, with wide streets and a grid system. This is certainly not the case in the rest of the country.
I am met at the airport by Prakesh D'sa and Henry Gomes. Prakesh leads the local church I am visiting and Henry leads one of the regions as well as the singles.  As I drive to my hotel through some pretty hair-raising traffic Henry describes the religious diversity of Delhi. We pass a large Parsi center. This is Zoroastrianism, the ancient religion of Iran. We also see a huge temple used by the Bahai—a religion started in Iraq in the 19th century. We see Sikhs everywhere, as well as a large complex used by followers of this religion. They are the ones who wear hair turbans—at least the men do. We also see Jains, but none of the male monks, who walk around completely nude.  They are hard to miss. But I have not even mentioned the two largest religions in India—the Muslims and the Hindus.  The BJP party is now in power.  This is the right-leaning party which supports Hindu fundamentalism. Christian groups have really been getting a hard time recently, including riots and attacks on churches.  Christians make up about 1% of the population here, officially, but I am told that it is probably more like 2%, as many believers in Christ choose not to out themselves for fear of reprisals.
I love this country and am so pleased to visit for the third time.  Folks in Delhi can be a bit pushy and aggressive at times—kind of like in New York, but as with all Indians, they are at heart very polite. Of course, there is the stark poverty, but things have improved immensely in India, even since my first visit here.  The economy has been growing at a 7% annual rate. Roads are better, infrastructure is improving, but, still, official corruption and red tape holds back this huge country with its wealth of human capital.
   Lunch in Delhi
The church I am visiting has about 520 members. Very recently they sent out a team of 20 to plant another church south of Delhi.  For several years the campus ministry had nearly disappeared, but in the last three years they have put renewed effort into campus work, including hiring interns and the group has finally begun to grow again. This bodes well for the church.
I get to spend time with Dinesh and Jules, who are the couple leading the new church planting in Gurugram.  Jules moved to India from Chicago to marry Dinesh and to join him in the ministry. On Thursday I taught on Jesus in the Old Testament, on the Existence of God and on the Reliability of the Bible.  I am teaching many lessons here, and different groups such as the singles, Bible group leaders or the campus and teens attend the various classes. On Friday I taught for perhaps eight hours total on the question of marriage and divorce, the Holy Spirit's Role in our Lives, Living by Faith (Hebrews 11), Freedom in Christ and more. It was a very busy day. Saturday included classes on Revelation, History Archaeology and the Bible, God and Science and more.  After this, I head to the airport with Shiva and Ketou who are interns here for a late flight to Mumbai.
Mumbai Jan 8-11
I am met at the airport by Mark Pereira and Kevin Roshan.  Mark leads a region for the church here in Mumbai with his wife Sheryl.  Kevin is an intern here. Mark has a secular job and is not paid by the church, yet he leads a region of  about 130. I am staying at the Pereira's apartment. The church I am visiting is about 450 members.  After several years of no growth, recently the church has been growing at a good pace.  Having David and Monica Noronha leading the group here has helped.
Mumbai is one of my favorite cities.  It is a bit hard to explain why, but this city is truly fascinating.  There are more than 20 million inhabitants and they are crammed onto a peninsula, making this the most crowded city I have seen.  Everywhere you go, the streets throng with pedestrians, autorickshaws, hand-drawn carts, trucks of every possible description. The streets of this city are a maze. I have no idea how people find their way around.  Even the taxi drivers need GPS to make their way.  This is the business and banking capital of India.  It is perhaps the most British of the Indian cities.  The food here, like everywhere in India, is fantastic. The variety is unending.  It is hard to take in the variety of people and languages here.  For example, on this trip to India I will be in Delhi, where they speak  Hindi, Mumbai where they speak Marati, Kolkatta where they speak Bengali, Bangalore, where they speak Kanada and Chenai where they speak Tamil.  Everyone speaks at least three languages—their local language, Hindi and English.
On Sunday I preach for the two southern regions of the Mumbai Church of Christ.  There are about 350 in attendance.  I get some time with John and Jasmine Britto who lead the central sector.  John and Jasmine are very intered in the teaching ministry, so we have some great talks.  While in Mumbai I spend quite a bit of time with Kevin Roshan who is an intern for the church (a humble intern according to him). He will be married in five weeks to Pavitra Ganesha.  The singing is in Marati, Hindi and English.  I also preach on Freedom in Christ for the two northern regions, with about 250 in attendance.  By now I am very tired and my voice is almost completely gone.
   Mumbai Skyline
Monday includes a three hour class for the staff on Revelation and an evening class on Evidence for Jesus at the National College of Bandara for the campus and single professionals.  More than half the group was guests which is so encouraging to me.  It is difficult to evangelize in this strongly Hindu country, but they are working hard, nonetheless.
Pune Jan 10
On Wednesday I travel three hours by car with David Noronha, Kevin and Shawn to Pune (Poona).  This is a smaller city of only ten million people.  It is considered a center of Hindu tradition.  Here I meet Raji and Sangeeta Cherian who lead this church of 207 members.  This couple not only leads the Pune church, they also help to oversee four other churches in Maharashtra State in Kolhapur, Sholapur, Aurangabad, Ahmednagar.  Overall, we have fifty-five churches here in India, as well as four in Pakistan, three in Nepal, one in Bangaladesh and one in Sri Lanka.
We have some great food together—paneer, roti, nan, biriyani, and kebab. This is food of northern India.  The food in southern India is almost completely different.  Here we eat everything with our hands, which takes a bit of getting used to.  In the evening I give a presentation on God and Science. The audience is mainly campus and professionals, as the talk is not translated.  Eighty were expected, but 120 showed up, including forty guests.  It was fantastically encouraging to see all the open people at this event.  After the class we have dinner with Kevin's uncle and aunt in their home, followed by a three hour drive back to Mumbai, getting home at 1:30 AM. This was a very full day.
   Church in Pune
Now I am back in Mumbai for one more day.  On Wednesday evening I teach at Xavier Institute for Engineering on God and science, primarily to college students. Kevin tells me that 120 are expected, but 200 are in attendance.  Nearly half are guests.  The campus ministry here is really encouraging.  However, they still need more help with interns and those willing to work full time with the campus ministry. Perhaps you should consider the one year challenge and come here to India.  All the students speak English.  What a great opportunity this would be.
Dhaka, Bangladesh, Jan 12-14
The flight to Dhaka is a bit over two hours.  My arrival at the airport is made difficult as it takes nearly three hours to get through the immigration process.  I am met by Edward and Theo.  Edward and his wife work for the church.  They along with David and Ruth Dhali,  Martin and Papia Byapari and Johnny and his wife form a team which leads the church here.  Martin runs a very active HOPE Worldwide ministry, including several job training programs for the youth. They are so grateful here for the visit, as the church here in Bangladesh is fairly isolated.
Dakha is a teeming city of 30 million inhabitants, making it one of the largest cities in the world.  It is a unique place based on my experience.  The principle means of transport here is by human powered bicycle cab.  The streets are remarkably clean and the people are fantastically friendly.  Bangladesh is a very crowded country. In a nation one third the size of California live one hundred and fifty million people.  This is a rather poor country, but I feel very safe as we walk around the city.  This country is about 90% Muslim, 9% Hindu and 1% Buddhist, Christian and other.  It is an officially secular government and the form of Islam here is relatively mild.  Few of the women wear veils or even head scarves. There is a small minority of radical Islamists, but the government is committed to opposing their influence.  Nevertheless, the church here faces strong opposition to conversion of Muslims and sharing their faith publicly is not possible.  I am embarrassed to admit that my preconception was that the people would be fairly simple and not all that well educated. I find the opposite to be true. There is much discussion about different philosophies and interest in intellectual questions.
  Bicycle rickshaw at night in Dhaka
One thing which is a bit of a surprise to me is that the weekend I am here in Dhaka just happens to coincide with the largest gathering in the world of Muslims outside of Mecca here in Dhaka.  This explains why there were so many obviously devoted Muslims on my flight and virtually no women. Who would have guessed that the second largest gathering of Muslims would be in Bangaladesh.
On Thursday evening I teach a class on God and Science for a small group in the home of David and Ruth. Actually, it is not that small as more than thirty pack into a small apartment. People here as so eager for more and deeper Bible teaching, and have many questions. The church has fifty members.  They have struggled to grow here for many years.
Friday is the day of worship in Bangaladesh, as this is a Muslim country.  Most of the believers must work on Sunday, so they have their principle worship day here on Friday as well, although they hold communion services in smaller groups on Sunday.  This is a practical compromise with what we consider "normal" but which is faithful to the Christian tradition of taking the Lord's Supper on Sunday.  Driving around the city today, the streets throng with an unbelievable number of pedestrians.  There are shops everywhere-as far as the eye can see.  There are hundreds of thousands of shops here. No wonder that this is called a nation of shops.
Church starts at 9:30 this morning.  After giving a sermon on Freedom in Christ, I teach three more classes on Evidence for Jesus, Jesus in the Old Testament and Living by Faith.  "Church" lasted until 5:15.  I am very impressed that more than 80% of the church stayed for the entire day—almost eight hours.  During church the power went out, which is not unusual here. They wanted to stop the service, thinking that we needed a microphone and power point, but I asked them to let me keep teaching.  Jesus did not need these things. Afterward, we had dinner together with the leadership group of the Dhaka church.  They have so many questions about how to do Christianity, as they are rather isolated here and need much input.
 A small group in Dhaka
Saturday is my last day in Bangladesh. I teach for three hours on Old Testament Survey. Most of those who had attended two hours on Thursday and eight hours yesterday were back again for more teaching.  After the class, David and Ruth take me to the airport.
Kolkata (Calcutta) Jan 14-15
The stay in Kolkata will be brief. This is the chief city of eastern India. Like in Bangladesh, the principle language here is Bengali or Bengla. The difference, of course, is that the great majority here are Hindus, not Muslims.  I am met by Emmanuel. He and his wife Toli lead the group of 78 Christians here. I have a wonderful dinner with their family, including Emmanuel's parents, both of whom are members of our church in Assam, in northeastern India.
 Cricket in Kolkata
Kolkata is a huge and sprawling city of more than 15 million. It is the former capital of British India, before they conquered the Mughal Empire and made New Delhi their capital.  Kolkata is known as the City of Joy, although I am not sure why. It is a very pagan city, well known for the practice of sorcery and black magic. Most of the gods here are female, which has an effect on the local culture.  There is even a large temple complex devoted to worshipping rats, with tens of thousands of rats running around. This is one thing that takes some getting used to here. The form of Hinduism we are exposed to in the West is more esoteric, philosophical and spiritual. This is certainly a part of Hinduism as practiced in India as well, but the religion of most of the people is quite pagan, with the worship of many gods and idols everywhere. The former Calcutta was governed by communists for more than twenty years. This impoverished the area to some extent, bringing many of the poor from outside as well. The cost of living here is therefore quite low, even by Indian standards, so the poor are more able to make their way. It is no surprise that this is the city where Mother Theresa did her work. In fact, I am staying at a guest house run by an organization that stemmed from her work with the poor in this city.  The poverty here, like in Dhaka, is tragic to see. Christianity is highly respected in this city, both because of the work of Mother Theresa, and because many of the best educational institutions are run by Christian organizations.  One thing that is true across India is that they greatly respect education.  This is perhaps the greatest strength of India.  This is also reflected in the Indian disciples great eagerness for biblical teaching.
 Church in Kolkata
I only have one day here to teach, so they keep me very busy.  This is Sunday, which is the traditional day of worship in India.  On my way to church I drive by the actual hospital complex where Mother Theresa did her work for the poor.  I teach four classes, for a total teaching time of seven hours. With a church of 78 there are about 125 in attendance.  There are many visitors, but the number is also boosted by 18 who took the train from Odisha (Orissa), which is the capital of the neighboring state, eight hours away.  There are members from other local churches. One couple came from Assam province—a sixteen hour ride by train.  Horror of horrors, their train was late and they arrived about ten minutes before the event ended.  A total of 32 hours of travel and they only caught ten minutes of the workshop. As sad as that is, we can certainly see the zeal for deep biblical teaching here.  Afterward we had a meal with the leadership team of the Kolkata Church and from Odisha.  The visit here was brief, but it was still the experience of a lifetime. Perhaps you will consider coming here to Kolkata or to Dhaka for the one year challenge or for a visit of a different length of time. The campus ministry here is very weak and could really use a shot in the arm. Please consider this.
Bangaluru (Bangalore) January 16-18
I have two days here in Bangalore.  This is the chief city of South India and the capital of the state of Karnataka.  Kannada is spoken here.  Bangalore is the "silicon valley" of India.  This city is more prosperous and modern than others in India. It has a population of nearly nine million.
I am met by my good friend Raghu Katragadda. He is the most influential teacher for our fellowship of churches in India, so we have a great time talking getting caught up and sharing what we have been learning and teaching.  In the evening I taught a class on Evidence for Jesus at St. Joseph's University. There are many visitors at the event.  Afterward, I have dinner with Jeba Prem, the campus minister, as well as well as Chris and Samson, interns in the campus group.  The campus group had virtually disappeared until four years ago when staff were hired to revitalize the student work. Now there are more than fifty students in the campus group. This is a great encouragement.  It is giving renewed vision to the church as a whole.  One of the positives in this church is that they have begun a school of missions. Students from across India come here for a two year commitment to receive biblical and practical ministry training.  There are twelve in the program now. I have met students from all parts of India.  This will serve as a source of new leaders and to restart campus work throughout the country. I am very pleased that the Bangalore leadership has seen the wisdom of this attempt to strengthen individual Christians and the churches here.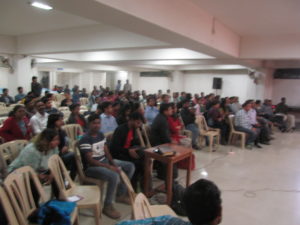 Revelation Class, Bangalore
The church here is led by Dinesh George and his wife. The help to oversee all of the work in India.  There are more than 1200 members with three regions.  I get some really encouraging time with Roger Matthew, who is interested in the teaching ministry. He and his wife Susan lead one region, along with Mark and Jasmine Pitchamutu and Shaijus and Beena Philip. On Tuesday I go to the church office for a lesson to the staff on Golden Rule membership.  This is followed up by a class in the evening for the campus on God and Science. There are perhaps 150 in attendance, with more than half being guests. This is followed up by a class the same evening for the whole church on Revelation. This is not a regular meeting night, but over two hundred come.
Chennai (Madras) Jan 18-19
I am up at 3:15 AM for a flight to Chennai.  This is the capital of the state of Tamil Nadu. The Tamils live on the southeast coast of India.  This is a city of nine million.  Chennai has a larger than typical population of Christians—about ten percent, I am told. This is in part for historical reasons, as Christianity came here very early.  Locals believe that the apostle Thomas came here.  There is a church devoted to him here.  I cannot confirm that Thomas came here, but Christianity was certainly here by the fourth century. The Portuguese also occupied the city, bringing Catholicism.  Chennai is on the coast. It is rather hot and humid here, although January is fairly pleasant.
The church here is large, with more than eight hundred members.  In recent years, the church here has planted ten churches in this part of India.  What a spirit to spread the gospel.  Unfortunately, this has drained the leadership here, as one can imagine, so now they are in a phase of building locally.  They have refocused on the campus work here, like in Bangalore and there are now fifty  in the group.  They also have hired a few interns to help with the youth and campus.  Jerry and Rosa Uttangi lead the church here.
One of the things I have not been commenting on about the various cities I have visited is the massive work for HOPE Worldwide done here in India. Let me use the case of the work in Chennai to represent the whole.  In this city, HOPE sponsors an orphanage for HIV positive children, a school for children from the poorest areas of the city, computer learning centers in nine different schools, a CARE program for pediatric patients in the government hospitals, and a program to plant trees all over the state of Tamil Nadu.  Malar Prabath works for HOPE, running these programs.  These programs employ more than sixty workers, twenty-five of whom are members of the church here.  Multiply this by at least ten and you get the idea of the scale of the benevolent work of our churches in India.
Wednesday I taught a three hour class on Church History for the staff and the interns. In the evening we have a public lecture on God and Science, mainly for the teens and campus. There are more than two hundred in attendance, with standing room only.  I met many guests. Thursday was a follow-up class on Church History for the staff and a class on Luke for the leaders of the church.  The needs here include help with the shepherding ministry. An extended visit by a mature couple would be extremely helpful.  Will you consider coming here to help this faithful group of disciples of Jesus?
On Friday AM I get some great time sharing vision for India with Jerry and Rosa. On the way to the airport there are protesters seemingly everywhere. There is a general strike in Tamil Nadu today, protesting the fact that PETA managed to convince the federal government to ban a kind of game similar to bull fighting, except that in this case, the bulls are not killed (although the people risk their lives!). I believe this because to kill a bull in India would be blasphemy against Hinduism.
Colombo, Sri Lanka, Jan 20-22
This is my first time in Sri Lanka.  I am met by David and Nadia De Los Santos.  He is from Minneapolis and she is from Mumbai.  After two years of training in Virginia they decided to come to Sri Lanka to help with the ministry work here.   They are very brave and really encourage me.  They could use more like them to come to this fantastically beautiful country of warm and friendly people to help spread God's Word here in Sri Lanka.  Would you consider taking a Christian adventure here?
I have wanted to come to Ceylon (the former British name for this country) since I was a child.  It seems so exotic.  Actually Sri Lanka is exotic.  It is a small nation, geographically, but it has 24 million inhabitants—not a crowded as India, but nevertheless quite crowded.  This is a tropical country. It is quite wet and green.  It is also largely mountainous. The most famous product of Sri Lanka is its tea, which is grown in the subtropical hills. This is a divided country.  The dominant group is the Sinhalese, who are predominantly Buddhists. However, there is a large minority of Tamils who have migrated from southeast India over the centuries. They are predominantly Hindu.  In 2009 a peace was achieved ending a thirty year guerilla war between the Tamil "Tigers" and the government, which is predominantly Sinhalese. This war destroyed the economy of this beautiful country.
  Mountains, Kandy, Sri Lanka
The church I am visiting has about sixty members.  When David and Nadia came two and one-half years ago there were twenty.  This church has grown rapidly and most of the members are very new Christians.  They are having a spiritual getaway this weekend.  About forty in the church travel the three hours into the hills to the former British capital of Kandy.  This is a beautiful city in the mountains which is quite a bit cooler that Colombo.  I am teaching a three-part series on the Book of James.  On Friday the lesson starts at 10:45 PM and goes past midnight.  This is a country of night owls.  Saturday includes three more hours of teaching on James, followed by sharing our faith in the city. The church is planning to plant another church in this city soon.  I meet a brother named Sadat who is a former Muslim.  The tells me that when he was converted to Christianity, his father beat him in front of his whole community every day for two weeks, until he (the father) could not take it any more.  I cannot relate to this kind of persecution, and it was for a brand new Christian. In the evening we have one more teaching session.
  Retreat, Kandy, Sri Lanka
Sunday I run with to the top of a mountain for a beautiful view of the valley and the river.  In the distance is the Knuckles Mountain Range.  Several visitors are at church from our going out sharing yesterday. This is a great encouragement to the church in their planning to plant the church here sometime this year.  I spend time talking with one of the Bible group leaders. She tells me that she met her husband less than two weeks before they were married.  Arranged marriages the norm here.   I speak on Living by faith to the group.  After some great fellowship we are off for Colombo and the return trip to the US.  Please consider visiting the church here in Sri Lanka, and perhaps even taking the one year challenge here.  They especially need women as Nadia has to work full time in order to keep her visa active.  Much help is needed here in this beautiful country.
John Oakes
1/23/17